Somatic Experiencing
Craniosacral Work 
Authentic Movement
Somatic Practice
Ritually-guided spiritual repair work for family and cultural healing.
Meditation
Mindfulness
Youth Mentoring
Teaching
Your hand moves
and the fire's whirling takes on a different shape.
All things change when we do.
Kūkai
Craniosacral & Somatic Healing
Somatic Experiencing and Craniosacral Work are naturalistic approaches to trauma resolution which support increased resilience and vitality in everyday life. Sessions can include somatic inquiry, dialogue, and Craniosacral touch. The holistic nature of this process can restore nervous system resilience, connection, and alertness, and address chronic pain and injury. Adult, pediatric, and perinatal sessions available.
Ancestral Lineage Healing
Everyone has wise and loving ancestors. Connect with your wise and well ancestors, through trauma-informed ritual guidance, for healing along your lineages in service of family and cultural repair. Liberating yourself from ancestral debt and burdens supports you to live more fully and purposefully in this life. To learn more about this work, visit Ancestral Medicine.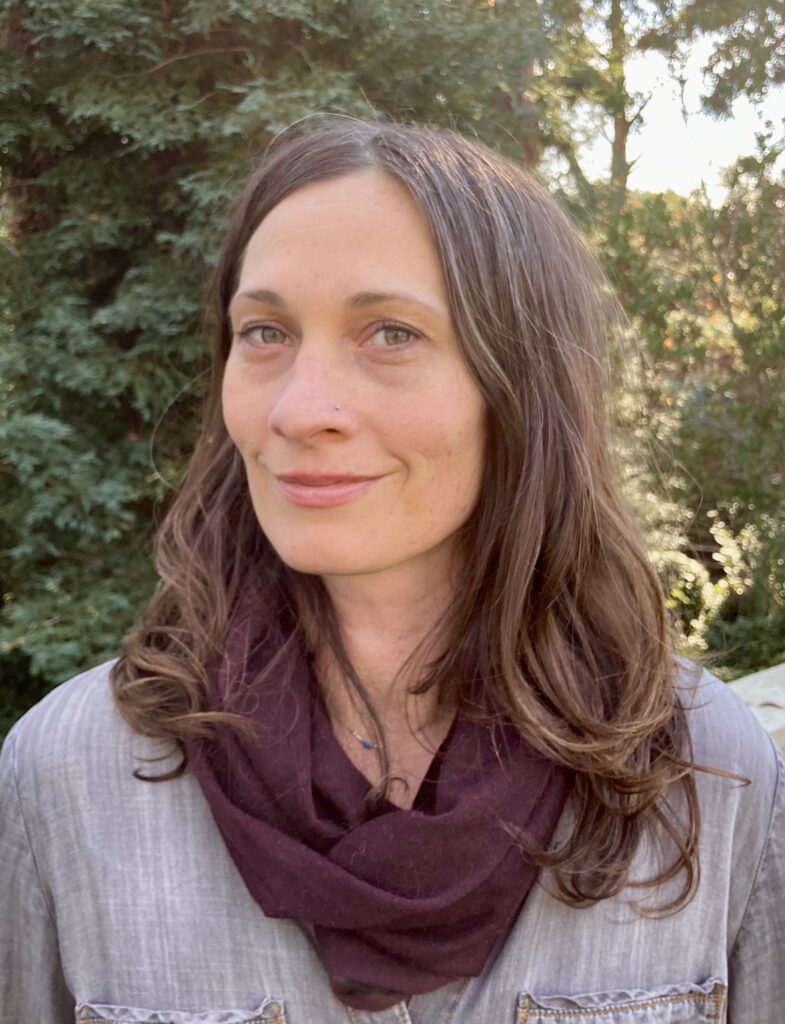 I have had the privilege to study with many wonderful teachers over the last 20 or so years. My healing path has wound through extensive bodywork training, Visionary Craniosacral Work, dance and movement work. Somatic Experiencing (SEP), Organic Intelligence (Mentor), and Dharma leadership (Spirit Rock Community Dharma Leader) have woven together in my offerings now through touch work healing and Dharma guidance. 
I have a long-term practice and study of Authentic Movement, Yoga, art, and earth wisdom. I  enjoy teaching teens with Inward Bound Mindfulness Education. Currently I study with Ancestral Medicine as a practitioner in training, and with my teachers Kittisaro and Thanissara of Sacred Mountain Sangha in the Kuan Yin Dharmas.
My people came to the U.S. as early colonizers from the U.K. and more recently from the Netherlands. I'm grateful to live with my family in Sonoma County, CA, and to tend land in community, honoring the ancestors, human and non-human, in all the ways I can. 
Sessions available online,
or in person in Occidental & Sebastopol, CA.
Somatic Healing: 60-minute sessions, $175
Ancestral Lineage Healing: $150 for initial 90 min, $100 ongoing
Need-based sliding scale available.
LGBTQIA+ warmly welcome.
Sara is a delight to work with! She is highly skilled, very present and an extremely talented bodyworker. She is very attuned and grounded, and I feel very lucky to receive bodywork from Sara on a regular basis.
It doesn't have to be
the blue iris, it could be
weeds in a vacant lot, or a few
small stones; just
pay attention, then patch

a few words together and don't try
to make them elaborate, this isn't
a contest but the doorway

into thanks, and a silence in which
another voice may speak.